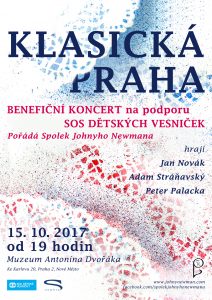 We began the artistic project Classical Prague in 2015. The preparation for the serie was in Teplice, 30th March 2015. The interprets at this concert were Markéta Janoušková, Jan Novák and Andrea Vavrušová. We played in the Spa Hotel Beethoven.
The next two concerts were 17.10.2015 in evangelical church By Salvator and 1.11.2015 in church Svatý Jan na Prádle in Prague. The interprets were members of Ensemble Sporck: Lukáš Vytlačil, Lukáš Vendl, Alena Hönigová a Dora Pavlíková
Third concert was in Jan Deyl Conservatory in Prague. The artists were Adam Stráňavský, Jan Novák and Martin Kasík. It was 14.11.2015.
Fourth concert was also in Jan Deyl Conservatory 12.3.2015. The interprets were Adam Stráňavský, Jana Ivanecká, Jan Pech, Jan Novák a Pavel Voráček.
The last event was in Muzeum of Antonín Dvořák 25.6.2016. There played Pavel Voráček, Anna Rheingans and Jan Novák.
We prepare for this season 2 concerts. The first concert will be 15.10. 2017.  We would like to invite You to this event.